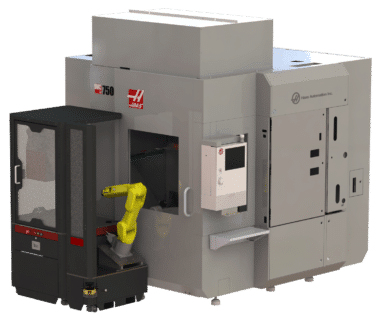 uCNC Styx
Specifications
2 sizes: normal 36″ x 48″ or wide 48″ x 60″
Heavy-duty stainless steel platform with threaded grid for mounting robots, jigs and other systems
Safety latch on door
Space for robot controller and electrical panel
Pneumatic compressed air filtration and conditioning module
PLC, electrical and pneumatic I / O
Communication with any type of CNC
Unparalleled mobility Flexibility for secondary operations
Connectivity 4.0
Fast and precise tie-down options
Lr-Mate or M10 series FANUC robot option
The UNiRO uCNC Styx system is a turnkey solution packed with smart features to automate the loading and unloading of your machining CNCs or any similar machine.
Ideal for CNC lathes and milling machines, it is designed to optimize the easy addition of secondary operations in hidden time such as laser marking, deburring, inspection, assembly, packaging …
The included PLC system also allows you to connect to your ERP system to get your production data in real time and even send you custom alerts by email or text, the possibilities are endless!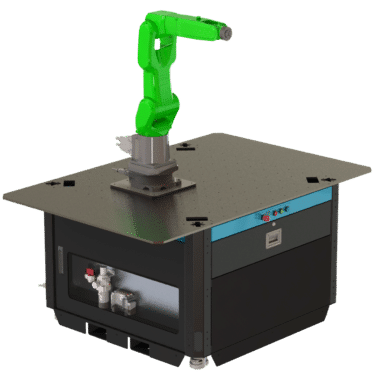 uHandle Neso
Specifications
Ultra robust 48 "x 60" stainless steel platform with threaded grid for mounting robots, jigs and other systems

Optimal configuration for popular collaborative robot applications

Unparalleled mobility

Maximum flexibility for mounting equipment and mechanisms

FANUC CRX10 robot options or other CR series robot

Space for robot controller and electrical panel

Pneumatic module

Communication with any type of CNC

Connectivity 4.0

Fast and precise docking options
The combination of a large surface mounted on a compact base and equipped with a collaborative robot is ideal for all your applications where space must be provided to mount jigs, bins of parts, boxes or other items necessary forcomplete your application.
The uHandle Neso cell is perfect for assembly, liquid application, welding, assembly or packaging.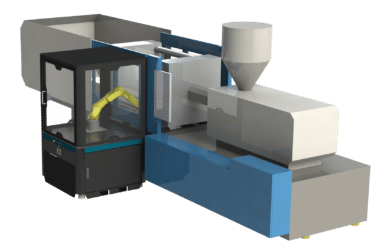 uJect Io
Specifications
36″ x 36″ (915mm x 915mm)

Optimal configuration for tight spaces

Machine safety

Euromap communication

Mobility

Flexibility for secondary operations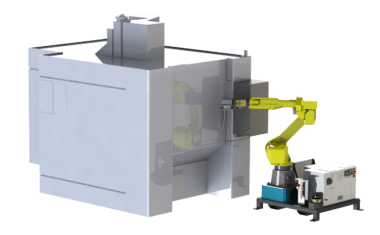 uCNC Nix
Specifications
Base 48 "x 48"

Optimal configuration for tight spaces

Integrated zone scanners and machine security

Communication with any type of CNC

Mobility, plug and play

Minimal footprint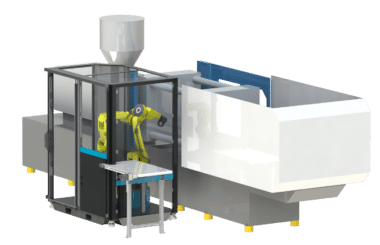 uJect Ariel
Specifications
48 "x 72" (1220mm x 1830mm)

Optimal configuration for tight spaces

Machine safety

Euromap communication

Mobility

Flexibility for secondary operations